Beschrijving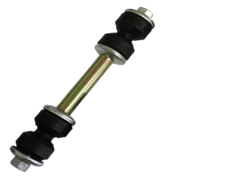 Stabilisatorstang link Ford 1965-91
Sway Bar End Link, Thermoplastic Bushings, Front, Each.
Benodigde hoeveelheid : 2 per auto
Driver side front 
Passenger side front
De Stabilisatorstang link verbindt de stabilisatorstang met de
onderste draagarm.Versleten of gebroken stabilisator links resulteert in
overmatig overhellen in de bochten en vaag stuurgedrag.Meestal gaat dit gepaard
met een rammelend geluid of gerommel.Check in geval van vervanging ook de
stabilisatorstang rubbers.
Stabilisatorstang link is voorzien van Thermoplastic in plaats van rubber
Dit materiaal is stijver en gaat langer mee.Hierdoor verbetert het rijgedrag.
Het materiaal is ook beter bestand tegen olie en pekel.