Bent u op zoek naar gebruikte Chrysler onderdelen zoals Deuren,Bumpers,Sierlijsten,Plaatwerk,Ramen,Motorkappen,Kofferdeksels.Spatborden,etc. Dan bent u bij Glorydays op het juiste adres.Naast onze voorraad in Schagerbrug laden wij 3 tot 5 maal per jaar een zeecontainer met roestvrije!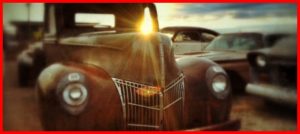 gebruikte onderdelen bij onze partner DVAP in de woestijn van Arizona. Hier hebben wij duizenden klassieke autos vanaf de jaren 20 tot midden jaren 80 staan voor onderdelen. Deze Salvage-yard bestaat uit 4 verschillende locaties en beslaat totaal een oppervlakte van 40 voetbalvelden ! Grote kans dat het door u gezochte onderdeel hier aanwezig is.
Aanvragen gebruikte Chrysler onderdelen.
Het aanvragen van de beschikbaarheid en prijs van onderdelen is simpel. Neem contact met ons op door het invullen van het contactformulier. Ook kunt u bij onderstaande fotos u onderdeel uitzoeken.Geef hierbij het stocknummer op in het contactformulier( let wel, dit is slechts een selectie van de duizenden auto's die hier staan). Wij kijken dan of het gewenste deel nog op de auto zit. Hierna wordt door ons het gewenste onderdeel gelokaliseerd en desgewenst gefotografeerd. Hierna ontvangt u van ons een prijs en een geschatte levertijd. ( levertijd is afhankelijk van wanneer eerstvolgende container wordt geladen.)
Eerstvolgende containerlading.
De eerstvolgende containerlading staat gepland voor : medio week 42-43 (oktober) 2015
Chrysler voorraad parts cars.
Onderstaan vind u een selectie van de voorraad Chrysler parts cars. Dit is slechts een deel van de voorraad. Dagelijks komen nieuwe parts-cars binnen en dagelijks worden er onderdelen afgehaald. Hierdoor is het voor ons onmogelijk om alles up to date te houden. Informeer daarom altijd of het door u gewenste onderdeel no op de auto zit. Klik op desbetreffende foto voor vergroting.